Alliance Management: How to Assure Partnership Success
Presented by alliance management executives from Eli Lilly and Company
---
Wednesday, January 19, 2022
at
10:30 AM (EST)
to Thursday, January 20, 2022 at 1:30 PM (EST)
Via Zoom - Links will be provided closer to the date of the event.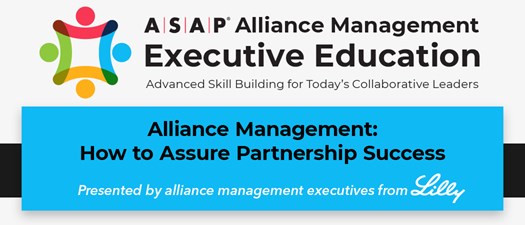 January 19th & 20th
10:30am to 1:30pm each day
This workshop offers exposure to experience and learnings from Eli Lilly and Company's Office of Alliance Management is non-industry specific and is ideal for:
Professional new to alliance or partner management
Seasoned alliance management professionals
Workshop will provide participants:
Participation in a pre-session discussion and survey
Case studies
A set of battle-tested alliance management tools
Techniques
*All used to train alliance managers at Lilly.
Upon completion participants will have working knowledge of key alliance management concepts and the three phases of the alliance lifecycle – start-up, steady state, and wind-down.
Facilitators
David Thompson, CSAP
Chief Alliance Officer, Eli Lilly and Company
Eli Lilly's alliance management is steeped in a culture of driving alliance value that has been achieved by the continuous development of cutting-edge alliance management techniques. Many factors today are impacting and causing a fresh evaluation of current best practices and open thinking to respond to evolving alliance models and new opportunities. David will present how Eli Lilly strives to respond in anticipation of the future of alliances and fosters a process to lead change for continuous alliance value.
David is an internationally recognized alliance architect and alliance builder, specializing in making alliances productive and profitable with a track record of: designing and operating effective and efficient alliances; successfully managing and negotiating alliance conflict; and developing high performing alliance management teams. David has published over 20 articles on the topic of alliance management and has been sought out by Fortune 100 companies outside of the pharma industry to consult on their alliance management programs. David regularly teaches alliance management courses as a guest lecturer at universities and has taught scores of alliance managers not only from pharmaceutical and biotech companies, but also high tech, insurance, petroleum, funeral, automobile, and financial services industries. David also serves as a board member of the Association of Strategic Alliance Professionals.
Currently, David is the chief alliance officer at Eli Lilly and Company (Lilly). As the leader of Lilly's Alliance Management group, David is responsible for establishing and maintaining all major development, commercial, and manufacturing partnerships. He also oversees the integration of companies brought into Lilly via mergers and acquisitions. David has played a key role in many major alliances and acquisitions at Lilly, working with Boehringer Ingelheim, Amylin, Daiichi Sankyo, and IMCLONE. His involvement beings during the due diligence process and continues throughout each alliance's lifecycle.
Prior to his role as chief alliance officer, David held leadership positions in sales, marketing, market research, pricing, new product planning, business development, and corporate strategy.
Kimberly E. Koch, CA-AM, MS
Senior Director, Alliance Management and Corporate Business Development, Eli Lilly and Company
Kimberly (Kim) Koch, CA-AM, is a public author, speaker, and senior director of alliance management at Eli Lilly and Company. Kim's broad experience in medicinal chemistry, oncology, neuroscience, clinical development, crisis management, and alliance dispute resolution has all contributed to her skill as an alliance manager and as a mentor to many Lilly alliance managers. Kim developed Lilly's first single-page alliance scorecard and has contributed to the development of many innovative alliance management tools and techniques during her tenure in Lilly's Office of Alliance Management.
Vickie Dalton, PsyD, HSPP
Forensically trained and clinical psychologist
Dr. Victoria Dalton, PsyD, HSPP, is a forensically trained psychologist with dual specialties in forensic and clinical psychology. A large portion of her practice is to effectively address and manage conflict within the legal and business worlds. Specifically, Dr. Dalton frequently engages in court-ordered high-conflict family work as well as providing consultation services to both business and legal professionals attempting to manage their most difficult clientele. She presents and has testified on the topics of conflict resolution, high-conflict families, criminal psychopathy, grief and loss, substance abuse, and personality disorders. Dr. Dalton practices in the Indianapolis area and can be reached at vdalton@indianahealthgroup.com.
You must be signed in to register for events.
Pricing
Members: $950
Non-Members: $1,140