Speaking C-Suite: Becoming a Trusted Alliance Advisor to Your Sr. Execs
---
Tuesday, September 20, 2022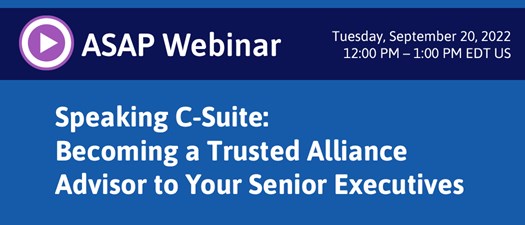 Please note: ASAP certified member will receive .25 CEU for attending this program.
Featuring:
Katherine Kendrick, CSAP
Head of Alliance Management | Jazz Pharmaceuticals
Drew Quinlan, CA-AM
Vice President, Business Development | Motive
Sally Wang
Group Vice President, Global Alliances and Partnerships | International SOS
Michael J. Burke
Senior Editorial Consultant/Editor in Chief | ASAP
Speaking C-Suite: Becoming a Trusted Alliance Advisor to Your Senior Executives
When your CEO calls, are you ready to march into the corner office and make the pitch for your alliances? Are you fluent in the language of C-level leaders? Do you know how to marshal the right data and arguments to make the best case for resource allocation?
Based on the cover story in the Q2 2022 issue of Strategic Alliance Quarterly, this webinar features a trio of stellar alliance leaders. They'll tell you what keeps C-suite executives up at night, how they want information presented to them, and the lingo you need to be conversant in so you can effectively make your partnering pitch. Our presenters will cover:
How to communicate with C-level leaders and address their most critical concerns
Stakeholder mapping: understanding the unique personalities and needs of each C-suite executive you interact with
How to connect the dots between alliances and corporate strategy
Making the minutes count: optimizing your limited face time with senior leaders
Pricing
Members: FREE
Non-Members: $69
Note: Members and guests must be logged in to see "Register Now" button.
Don't have a login? Please create an account and join our community!