2022 ASAP Alliance Excellence Awards Ceremony & Senior Exec Fireside Chat
Winning Alliances in a Shifting World
---
Thursday, May 19, 2022
11:00 AM - 12:00 PM (EDT)
Vimeo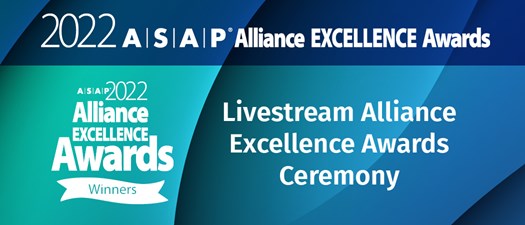 Ever wonder what it takes to move your alliance from good to great? Join us for a senior executive fireside chat and find out! The livestream program is open to everyone interested in alliance and partnership excellence.
Awards being presented include;
Individual Alliance Excellence—Emerging Alliance
Individual Alliance Excellence—Longstanding Alliance
Innovative Best Alliance Practice
Alliance Program Excellence
Alliance for Corporate Social Responsibility
Best Ecosystem Solution
Following the award presentation, a fireside chat moderated by author, professor, and awards committee chair Ard-Pieter de Man will take place and includes executives from companies such as Genpact, Bayer, Evotec, Protiviti, Janssen, Merck
Won't you join us in a special livestream program as we celebrate high-achieving, trailblazing collaborative leaders?
"Alliances aren't just helping the corporate world increase revenue, develop products faster, or reach key company goals—the whole world is counting on collaborations to overcome the greatest crisis the world has faced in many years. These award-winning alliances are a living testament to how important the practice of alliance management is to the economic and medical well-being of our society."
—Michael Leonetti, CSAP, president and CEO, Association of Strategic Alliance Professionals
You must be logged in to register for events.
Pricing
This is a FREE event, open to all