Building a Resilient Partnering Capability
---
Thursday, February 3, 2022
Zoom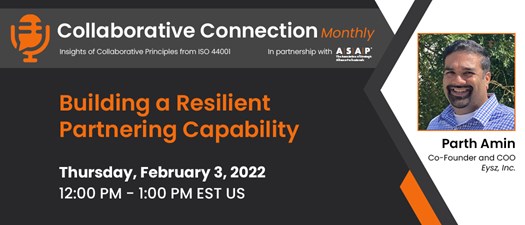 Businesses have been rocked by increasing pace of change, black swans, and digital transformation. This was before the pandemic which has been a once in a century disruption testing the resiliency and agility of all businesses and their ecosystems. In the best of times survival requires adaptability, innovation, and collaboration. Business ecosystems can deliver these attributes but only if you have the capability to partner effectively.
Parth Amin, co-founder and COO at Eysz, Inc. discusses why companies need to build the partnering capability muscle and how tools and frameworks help increase their chances of success.
About featured guest:
Parth Amin
Co-Founder and COO
Eysz, Inc.
Parth Amin is the co-founder and COO at Eysz and leads their product development efforts and GTM strategy. Amin has over 15 years of medical device experience in product and project management, product launch, and alliances having worked at Siemens Healthineers, Varian, and Omnicell.
You must be signed in to register for events.
Pricing
This is a FREE event, open to all