Channel Account Manager: The Most Important Role in Technology Partnerships
---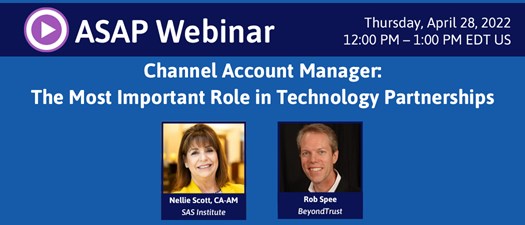 Featuring
Nellie Scott, CA-AM
Sr. Manager, Growth Markets, Americas Alliances & Channels | SAS Institute
Rob Spee
SVP Global Channels & Alliances | BeyondTrust
The channel landscape is being constantly transformed with business disruptors and evolving business models. Channel account managers' roles are also evolving and getting more complex. They are the caretakers of the channel ecosystem and vendor-partner business model, which makes hiring the right CAM critical.
Discussion Points
How CAM roles are changing
Skills vary with business model
Matching skills and experience to the maturity of your partner program
About the Speakers:
Nellie Scott, CA-AM
Sr. Manager, Growth Markets, North America Alliances and Channels
SAS Institute
Nellie is a sales professional with over 17 years' experience in Technology sales management, marketing, and operations in both domestic and international markets. Her career spans across companies such as Dell, where she served as Senior Services Sales Manager prior to joining Lenovo as Director of Sales Support & Channel Enablement. In her current position as Sr. Manager, Growth Markets, North America Alliances and Channels, Nellie leads a team responsible for developing, executing and managing partner strategies focused on accelerating partner-driven sales and productivity in the U.S. and Canada.
A skilled leader and communicator, Nellie began her career in California, where she attended and taught at the University of Southern California. Most recently, she was named Member of the Year-2020 by CompTIA, the world's largest technology association, and featured in CompTIA World tech industry magazine https://bit.ly/3abjyv2 . Press Release: https://prn.to/2F9bzmT
Her philosophy is simple "…Nothing happens in an organization until somebody sells something to somebody; and if you don't sell total solutions—someone else will."
Rob Spee
Senior Vice President of Global Channels & Alliances
BeyondTrust
Rob Spee is a global IT channel professional with over 20 years of experience driving channel growth for startups to billion $ software companies. Rob is the senior vice president of global channels at BeyondTrust, where he's focused on building a next gen partner ecosystem. Most recently, Rob was the RVP of Americas Channels at OutSystems where he helped to modernize the global partner strategy and partner program.
Rob has built high-performance channel teams at software firms like SAS Institute and Carbonite, led channel sales and marketing at distributor Arrow ECS, and launched a startup as a Splunk partner. He enjoys sharing his passion for the channel as the host of the Channel Journeys podcast.
After being born and raised in Seattle, Rob started his career as a Petroleum Engineer working on offshore oil rigs in the Gulf of Mexico. After earning his MBA, Rob's quest for adventure led him to live in 10 different states and 5 countries. His passions outside the channel include hiking and biking in the Georgia mountains and sailing the Caribbean and open ocean.
You must be logged in to register for events.
Pricing
Members: FREE
Non-Members: $69