Does Your Day-to-Day Get in the Way of Strategic Thinking?
ASAP Roundtable
---
Thursday, October 7, 2021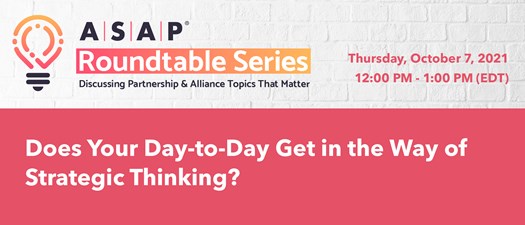 Many alliance professionals find their workdays filled with details to be ironed out: governance meetings, partner touch-base calls, contract reviews, personnel management, and more. At the same time, in order to fully do their jobs, they need to be strategic thinkers and planners as well. Is it possible to do both? Are you so busy putting out the daily brushfires that you don't have time for strategizing or looking ahead? Are you running as fast as you can just to stay in one place–and possibly losing sight of the end goal you're working toward? This roundtable discussion will seek to focus on how we can achieve a better balance between the necessary details of our daily jobs and the equally important big-picture visions needed to execute our companies' alliance strategies.
Join other ASAP members in this FREE member only event; Zoom rooms will be distributed among industry verticals.
You must be signed in to register for events.
Pricing
Members: FREE
This event is only available to current ASAP members.