Getting Off to the Right Start: The Importance of Alliance Kickoffs
---
Wednesday, March 16, 2022
11:30 AM - 12:30 PM (EDT)
Zoom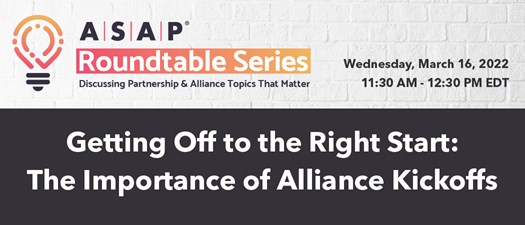 Especially in biopharma, holding a formal alliance kickoff meeting—or series of meetings—remains vital. Virtually or otherwise, companies are finding all kinds of new and innovative ways to get alliances going, bring all stakeholders onboard, and make sure everyone understands the purpose of the alliance and stays on the same page and working together. How has your company done it? What ways have you found to make alliance kickoffs work best, virtually or in-person? How have virtual meetings changed how you do things in the kickoff? How are you compensating for some of the more social aspects of in-person kickoffs that helped build relationships and establish trust? Are these harder to do in virtual settings? Join us for this lively roundtable discussion to share your own best practices and hear what lessons your peers and colleagues have learned as well.
You must be signed in to register for events.
Pricing
Members: FREE
This is an ASAP Members-Only event.