How to Build an Ecosystem Capability
ASAP Roundtable
---
Tuesday, February 28, 2023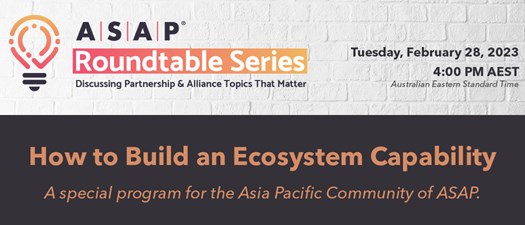 A special program for the Asia Pacific Community of ASAP
Program begins at 12:00 AM EST US on February 28, 2023 / 4:00 PM AEST on February 28, 2023

Program facilitators:
Ard-Pieter de Man, CSAP, PhD | Boardroom Consultant, Author | Professor at School of Business and Economics, Vrije Universiteit Amsterdam
Philip Sack, CSAP | CEO | CollaboRare
Global business has been significantly disrupted due to recent financial recessions, economic and political uncertainty, and the global pandemic. Start-ups, platform business models, and organic commercial structures are driving changes at an unprecedented level. As organizations reposition to address new opportunities and market threats, developing and managing strategic alliances and ecosystems has become a critical business capability.
However, most organisations are still grappling with ecosystems and how best to move forward in a world that is constantly evolving. Join us as we review this new organizational revolution and explore how to address these new critical capability areas. You will learn:
A thorough understanding of what an ecosystem capability is
An overview of the main challenges in ecosystem management
Concrete ideas on how to connect your ecosystem to your organisation
Join us for a short presentation followed by a lively discussion with Ard-Pieter and Phil.
Pricing
This is an ASAP Members-Only and Invited Guest event.
Members/Invitees: FREE
Member CEUs:
ASAP certified member will receive .25 CEU for attending this program.
Note: Attendees must be logged in to see "Register Now" button.
Don't have a login? Please create an account and join our community!