Listen Up!: An Alliance Professionals' Fireside Chat on Communication
---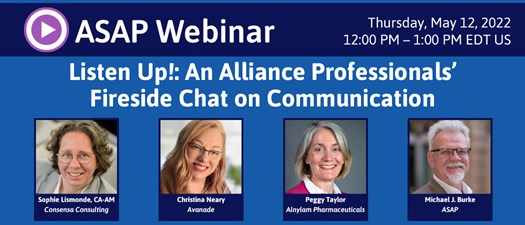 Please note:
ASAP certified member will receive .25 CEU for attending this program.
Panelists:
Sophie Lismonde, CA-AM
Managing Partner | Consensa Consulting
Christina Neary
Corporate Vice President, Global Microsoft Alliance | Avanade
Peggy Taylor
Senior Director, Head of Alliance Leadership | Alnylam Pharmaceuticals
Moderator:
Michael J. Burke
Senior Editorial Consultant/Editor in Chief | ASAP
Among the many collaborative skills alliance managers must have in their tool belts, communication is a big one. "Communication" covers listening, speaking, understanding, having empathy, and showing respect—and much more. It must be applied internally, within one's own organization, and externally, with alliance partners. Knowing whom to speak with, when, how, and how often—and which people to get in the room (virtual or otherwise) to make a decision or resolve an issue—can be critical to alliance success.
Our seasoned panelists will discuss their own experiences in alliance communication and share their insights, including:
Establishing a "common language with shared meaning"
Bridging partners and internal stakeholders, including senior leadership
Communication in virtual settings
Speaking and listening across different company and country cultures
Psychological and emotional elements of communication
You must be logged in to register for events.
Pricing
Members: FREE
Non-Members: $69