Making Partnering Capability a Part of Your Organization's DNA
Collaborative Connection Monthly
---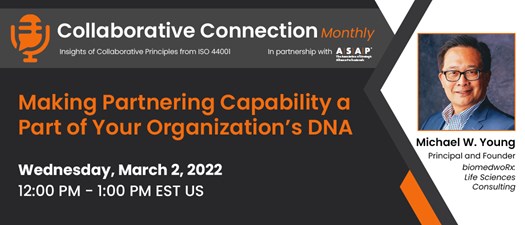 Does your organization have a well-developed, clear, and flexible strategy that considers partnering as a means of achieving its strategic objectives? Does that strategy truly drive day-to-day activity, or is it more like optimistic lip service? This webinar will look closely at how to integrate the ability to collaborate into the fabric of your organization, aligning to strategy, best practices, processes, leadership, and competencies. We will discuss how aligning your partnering strategies with your corporate vision and business objectives will enable you to create more resilience in your value chain, expand to new markets, reduce risk and cost in operations, and provide greater value to your customers through innovative products and services.
Our featured guest:
Michael W. Young
Principal and Founder
biomedwoRx: Life Sciences Consulting
You must be signed in to register for events.
Pricing
This is a FREE event, open to all