Partnering with Health Systems:
How to Operationalize and Optimize These Vital Relationships
---
Thursday, December 14, 2023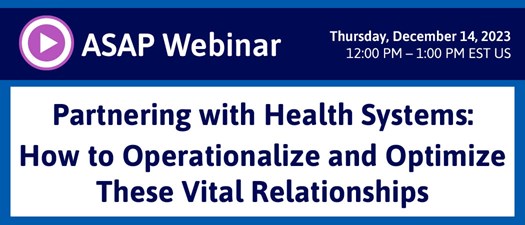 Speakers:
Ben Siddall
Partner, Vantage Partners
John Barbadoro
Senior Consultant, Vantage Partners
In the expanding biopharma ecosystem, health systems and academic medical centers (AMCs) are increasingly partnering with the pharma industry to drive improved social and economic outcomes for their institutions, their communities, and their faculties and patients. Health systems are focused on determining how to maximize the value and societal impact of their care activities, research, and intellectual property, as well as how best to externally innovate. These alliances are crucial to the pharma industry as well, but present many unique challenges compared to traditional industry-industry partnerships.
Establishing the right alliance operating model for health system partnerships is critical to maximizing their value, and a vital step for biopharma companies seeking to become a partner of choice for health systems. Join Vantage Partners' Ben Siddall and John Barbadoro as they present a webinar-style presentation on how to optimize and operationalize these partnerships for maximum value, followed by facilitator-led roundtable discussions with your ASAP peers.
Pricing
Members: FREE
Non-Members: $69
Member CEUs:
ASAP certified members will receive .25 CEUs for attending this program.
Note: Members and guests must be logged in to see "Register Now" button.
Don't have a login? Please create an account and join our community!