Back to ASAP Store
The ASAP Guide to Information Technology Partnering
Publications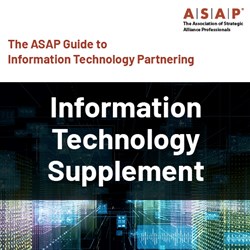 The ASAP Guide to Information Technology Partnering is an electronic-format supplement and update to The ASAP Handbook of Alliance Management, and represents the latest and most advanced thinking on leading, managing, and deriving revenue from alliances, partnerships, and complex ecosystems in the high-tech field.
Building on the shared insights, published research, and real-world, in-the-trenches experiences of numerous ASAP members and the broader community of alliance management practitioners, The ASAP Guide to Information Technology Partnering explores the challenges and changes of a rapidly transforming IT landscape, delving into such critical areas as:
The persistence of and threats to the traditional IT vendor-distributor-reseller channel
The rise and spread of IT ecosystems
The role of alliance managers as ecosystem orchestrators and facilitators
Collaboration and competition in IT partnering
Revenue-generating go-to-market guidelines, new selling motions, and the relationship between alliance management and sales
Alliances as an essential enterprise function in today's high-tech world
This product is in an eVersion format only. For more information regarding this product click here.
---