Back to ASAP Store
The ASAP Guide to Biopharmaceutical Partnering
Publications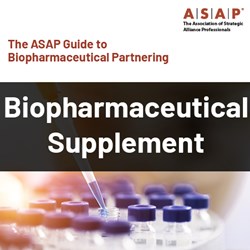 The ASAP Guide to Biopharmaceutical Partnering is a supplement and update to The ASAP Handbook of Alliance Management, and represents the latest and most advanced thinking on leading, managing, guiding, and deriving revenue from alliances in every stage of the biopharma asset life cycle and across the biopharma ecosystem.
Building on the shared insights, published research, and real-world, in-the-trenches experiences of numerous ASAP members and the broader community of biopharma alliance management practitioners, The ASAP Guide to Biopharmaceutical Partnering explores the complexities of the evolving biopharma landscape, providing a deep dive into such critical areas as:
Biopharma alliances and the Alliance Life Cycle
Managing alliances from the deal to execution—and beyond
Governance, alignment, and "influencing without authority"
Alliance wind-down, termination, and divestiture
Integration of alliances acquired via M&A activity
Alliances involving academia, pharma, biotech, digital health, and more
Discovery, development, and commercialization alliances
This product is in an eVersion format only. For more information regarding this product click here.
---