Adventures in Partner Enablement
---
Thursday, December 9, 2021
Zoom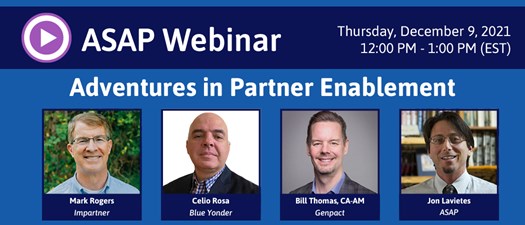 Panelists
Mark Rogers
Senior Vice President of Strategic Accounts and Alliances | Impartner
Celio Rosa
WW Sr. Director, Partner Program & Sales Centers | Blue Yonder
Bill Thomas, CA-AM
Vice President of Global Alliances | Genpact
Moderator
Jon Lavietes
Staff Writer | Association of Strategic Alliance Professionals
Partner enablement programs are critical to getting your reseller, go-to-market, and technology alliance partners up to speed on how to build and sell joint solutions. With the cloud and marketplaces changing the dynamics of the tech industry, tech companies are reevaluating what information needs to be communicated to partner product, sales, and services employees and how to transfer that knowledge.
Join us for our latest webinar, which will delve into what is new in partner enablement today.
About the panelists and moderator
Mark Rogers
Senior Vice President of Strategic Accounts and Alliances | Impartner
Mark Rogers joined Impartner in 2015 and was chief revenue officer before assuming his current role of senior vice president of strategic accounts and alliances. Mark is responsible for driving Impartner revenue and client growth through successful global strategic relationships with the industry's leading CRM solutions and services providers, as well as a world-class partner ecosystem of resellers, referral partners, MSPs, and ISVs. Rogers brings extensive executive leadership experience and success in direct sales, channel sales, and business development. Most recently, he was vice president of channel sales Americas for Akamai Technologies, where he grew channel annual recurring revenue by 40 percent annually during his tenure. Prior to Akamai, Mark was vice president of sales and business development at Aternity, vice president of business development at Novell, and held executive business development, channel and sales leadership roles at Intel, IBM, Folio Corporation, and Caldera. Rogers holds a bachelor's degree in organizational psychology from Brigham Young University and completed executive education programs from Harvard Business School and Stanford School of Business.
Celio Rosa
WW Sr. Director, Partner Program & Sales Centers | Blue Yonder
Celio Rosa has just joined Blue Yonder Partner Success leadership team as responsible for the Partner Program & Sales Centers, coming from Oracle Communications, where he spent 14 years, mainly as the Sales Channel Director for Latin America, leading IT/Telecom business opportunities through partners in the region. Under his leadership, the partner business has significantly increased throughout the years, thanks to clear regional strategies in making partners successful in an OnPrem-to-Cloud technology evolution.
Celio Rosa is a graduated engineer from Ecole d´Ingénieurs de Bienne, Switzerland, with Executive MBA at Business School Sao Paulo. Besides, he has also management specialization certificates from Rotman School, University of Toronto and Stanford University in California, USA.
Bill Thomas, CA-AM
Vice President of Global Alliances | Genpact
Bill Thomas has just joined Genpact as vice president of global alliances, responsible for managing a portfolio of partners in the process automation and data management areas. Prior to Genpact, Bill held senior-level alliances and channels roles at SAP, Workday, Oracle, Capgemini, and PwC. In addition to having more than 15 years of experience in alliances roles, Bill began his career at ADP, where he spent 18 years in diverse roles ranging from sales, implementation, client service, tech support, product development, product marketing, strategic planning, and new business development.
Bill holds a bachelor of science degree in communications management from Syracuse University.
Jon Lavietes
Staff Writer | Association of Strategic Alliance Professionals
Jon Lavietes is a staff writer on ASAP's editorial team where he composes feature stories, blog posts, and social media posts for the association's print magazine, newsletter, website, and social channels. He previously held the editorial director for the previous iteration of the association's flagship magazine, organization newsletter, and company blog a decade ago.
Jon is originally trained in public relations and brings more than two decades of PR and copywriting experience. He holds a Bachelor's degree in political science from Washington University in St. Louis.
You must be signed in to register for events.
Pricing
Members: FREE
Non-Members: $69