An Inside Job: Performing the Critical Internal Work of Alliance Management
---
Thursday, September 15, 2022
10:30 AM - 11:30 AM (EDT)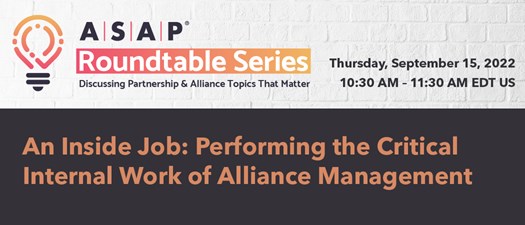 Please note: ASAP certified member will receive .25 CEU for attending this program.
While working with external partners certainly has its challenges, alliance professionals across industries agree on one thing: anywhere from 70 to 80 percent or more of their work is actually internal, within their own organizations. Whether it's lobbying senior leadership for resources, aligning internal stakeholders, educating and informing other functions about the role and benefits of alliances, getting executive or cross-functional buy-in, or simply "herding the cats" so they all go in the same direction, it's a mammoth job.
This interactive roundtable discussion will allow participants the opportunity to talk about the place where they spend the vast majority of their time and effort: inside their own organizations. Join us for what promises to be an illuminating—and perhaps even cathartic—conversation about the "inside job" of alliance management.
Pricing
Members: FREE
This is an ASAP Members-Only event.
Note: Members must be logged in to see "Register Now" button.
Don't have a login? Please create an account and join our community!