Ecosystem management—how each industry addresses this type of partnership
---
Tuesday, July 4, 2023
6:00 PM - 8:30 PM (Romance Daylight Time)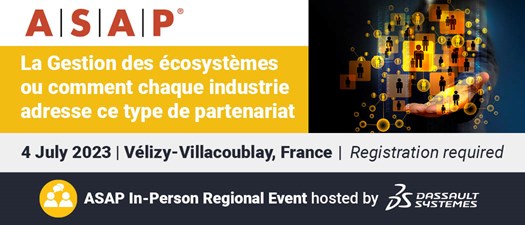 La Gestion des écosystèmes ou comment chaque industrie adresse ce type de partenariat
ASAP In-Person Regional Event hosted by Dassault Systèmes
Featuring Panelists:
Frederic Bonfils, CSAP
Vice President, Corporate Alliance Management | Pierre Fabre
Frederic Le Roy
Professor | Labex Entreprendre, University of Montpellier
Alexandra Pelletier, CA-AM
Director Alliance Management | Sanofi
Christophe Pinard, CA-AM
Global Alliance Executive | Dassault Systèmes
High-tech is no longer the only industry relying heavily on ecosystems to accrue more revenue and bring innovations to market quicker. While tech has been cultivating ecosystem management best practices for a few years now, biopharma, healthcare, and other verticals are starting to see ecosystems proliferate in their landscapes. How does each industry approach ecosystem management? What are the main differences between traditional alliance management and ecosystem orchestration? Are the skill sets mostly the same, or do alliance professionals need to cultivate new competencies to manage the latter?
Four experienced alliance professionals will reveal how they manage ecosystems in their respective companies and industries—software, academic research, and biopharma—at the next ASAP France community event. These senior executives from some of the most recognized French institutions will detail how their ecosystems have evolved and share best practices for managing them. Come to learn more about ecosystem management, stay to network with ASAP France community members, some of the country's most accomplished and dedicated alliance professionals.
Please note that the discussion will likely take place in French.
Pricing for this
In-person Event
Members: FREE
Non-Members: $50 USD
Member CEUs:
ASAP certified members will receive .25 CEUs for attending this program.
Note: Members and guests must be logged in to see "Register Now" button.
Don't have a login? Please create an account and join our community!