Collaborative Intelligence: Practical Tools & Best Practices for Teams
Keeping an eye on optimizing alliance results.
---
Thursday, February 22, 2024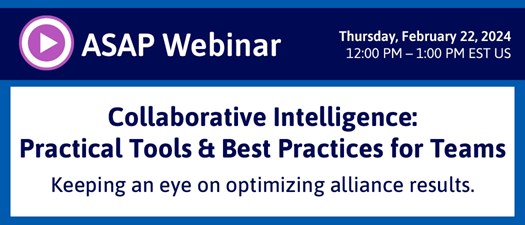 Speaker:
Lynda McDermott, CA-AM
Ongoing research of successful alliance teams sites the fact they leverage the collective knowledge, skills, and experiences to innovate new solutions for current and anticipated future challenges. Further, they have an urgency to understand and apply collaborative partnering competencies that value diverse perspectives and encourage a collaborative and unifying mindset among all stakeholders.
Alliance professionals are faced with trying to optimize their partnering effectiveness while navigating increasingly unpredictable economic market development, socio-cultural, and technological changes. It is critical that professionals continue to evolve their strategic partnering capability to include Collaborative Intelligence (CI). Embracing CI allows alliance professionals to lead and influence complex alliance ecosystems and drive a solid shared value proposition across an organization.
Webinar attendees will:
Gain an understanding of Collaborative Intelligence (CI): its core principles, its benefits for alliance teams, and best practices that apply to alliance management
Learn how to map an alliance team's "thinking styles" and identify potential gaps in a team's CI capabilities
Assess a specific alliance team's CI capabilities and opportunities to enhance their alliance team's capacity for alliance collaborative partnering
Gain a useful appreciation of the potential obstacles for alliance teams to successfully adopt CI strategies
Develop an action plan for introducing CI tools and best practices to their alliance teams
Pre-webinar Registrant Survey
To ensure there is the opportunity to apply learnings from this webinar, registrants will be asked to complete a pre-webinar benchmark assessment on how well they believe their alliance teams demonstrate Collaborative Intelligence (CI) best practices. At the end of the webinar participants will walk away with a specific action plan for improving one or more of their alliance team's Collaborative Intelligence (CI) practices that should lead to improving the alliance team's performance.
Speaker Bio:
Lynda McDermott, CA-AM
Founding President, EquiPro International Ltd.
Lynda McDermott is founding President of EquiPro International Ltd., an international management consulting and executive coaching firm. She has worked in over 35 countries setting up and developing leadership, product, research and alliance teams. She is an instructor for ASAP's CA-AM certification program and TE-AM Alliance workshop and is an official ASAP Educator Provider Partner. McDermott works with such companies as Pfizer, Moffitt Cancer Research Center, PricewaterhouseCoopers, Biogen Idec, and Sanofi. She is a Certified Speaking Professional and has been on the adjunct faculty for alliance education for the American Management Association.
Pricing
Members: FREE
Non-Members: $69
Member CEUs:
ASAP certified members will receive .25 CEUs for attending this program.
Note: Members and guests must be logged in to see "Register Now" button.
Don't have a login? Please create an account and join our community!