Benchmarking Alliance Performance Through Objective Data Metrics
---
Thursday, August 18, 2022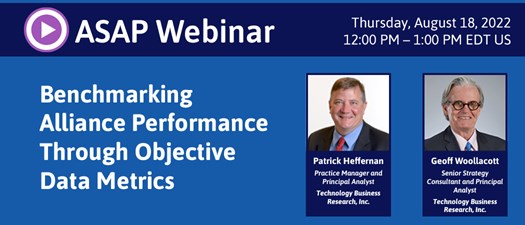 Please note:
ASAP certified member will receive .25 CEU for attending this program.
Featuring
Patrick M. Heffernan | Practice Manager and Principal Analyst | Technology Business Research, Inc.
Geoff Woollacott | Senior Strategy Consultant and Principal Analyst | Technology Business Research, Inc.
Benchmarking alliance performance in the technology sector requires disruption. Legacy partner program metrics are misaligned to the way end customers seek to procure technology solutions. The disruption stems from multiparty alliances where current benchmark metrics lean toward the sponsoring alliance partner rather than toward the ecosystem or the end customer.
Discussion points will include;
Objective data each type of ecosystem participant — platform vendor, hyperscaler, systems integrator, large enterprise software vendor and small independent software vendor — should benchmark
Objective data metrics emerging to monitor ecosystem performance
How these measurements, in the form of contractual commitments, need to be simplified to suit the ecosystem rather than the participant's operating model
About the speakers:
Patrick Heffernan
Practice Manager & Principal Analyst, Professional Services Practice
Patrick Heffernan is practice manager and principal analyst in TBR's Professional Services Practice, where he directs the practice's portfolio and manages projects on topics ranging from creating management consulting services to deciphering digital transformation for consultancies and IT services vendors to analyzing the business impact of emerging technologies. Patrick's responsibilities tap his expertise in competitive intelligence, strategy, and global political-economic impacts on business cycles and consulting vendors.
Prior to joining TBR, Patrick was part of a Big Four firm's competitive intelligence team, conducting fieldwork and analysis. His professional career started in diplomacy, with Middle East postings as a foreign service officer with the State Department and counterterrorism assignments with the National Security Council and the U.S. Department of the Treasury.
Patrick received a BA in political science from Washington and Lee University and an MA in diplomacy from the University of Virginia.
Geoff Woollacott
Senior Strategy Consultant & Principal Analyst
Geoff Woollacott is a senior strategy consultant and principal analyst in TBR's Tailored Services group.
With a career spanning over four decades in consulting, it's Geoff's mission to dissect this era of unprecedented disruption and apply his project management experience to coach junior staff on how to solutionize client engagements.
Prior to joining Tailored Services, Geoff oversaw the syndicated research team for TBR's Software and BI Services practice.
Before joining TBR, Geoff owned Renaissance Group (RGI), a boutique market research firm founded in 1991 serving blue-chip clients such as IBM, HP, and EMC. RGI conducted competitor assessments of IT vendor go-to-market strategies, operational benchmarking studies, M&A support and distribution channel satisfaction studies. Early in his career, Geoff was an end user and reseller salesperson for Arrow Electronics and a marketing manager for Arrow Field Service, where he designed the company's first Third Party Maintenance program before working at Technology Financial Services as principal of the company's IT hardware vendor practice.
Geoff writes commentaries for Nearshore Americas and globalcomment.com and has been a columnist for Nashoba Publications.
Geoff received a cum laude degree in economics and government from Bowdoin College and spent a semester studying at the London School of Economics, where he completed a thesis on the complexities and legal challenges of European Economic Community Integration.
Pricing
Members: FREE
Non-Members: $69
Note: Members and guests must be logged in to see the "Register Now" button.
Don't have a login? Please create an account and join our community!