Face-to-Face CA-AM Certification Exam Prep Workshop
---
Wednesday, October 12, 2022
9:30 AM - 4:30 PM (W. Europe Daylight Time)
Workshop will be held as a pre-conference event for the 2022 European Alliance Summit in Amsterdam. Hotel location info to come.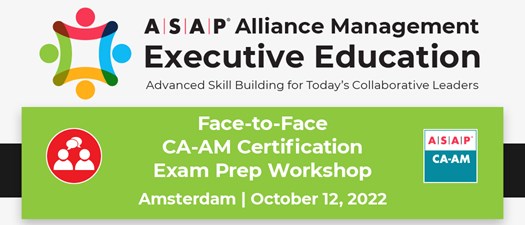 Based on the principles covered in The ASAP Handbook of Alliance Management: A Practitioner's Guide, this review workshop will address the following areas covered in the CA-AM exam:
Alliance Life Cycle Framework
Strategic Rationale and Readiness
Alliance Selection
Alliance Execution
Planning and Organizing Skills
Management and Leadership Skills
ASAP professional alliance management certification translates into better business outcomes:
Streamlines and reduces your alliance team's time and effort in supporting partnerships
Strengthens the connection between strategy and day-to-day implementation
Helps foresee and mitigate significant partnership and alliance risks
Fosters greater value creation through partnership and alliance insights, lessons learned, and enhanced efficiency
Improves partnership and alliance portfolio success rates
Workshop Bundle includes: participation in full day in- person workshop, a hard copy of The ASAP Handbook of Alliance Management: A Practitioner's Guide. Also included in the workshop fee is the online exam. The CA-AM prep workshop is a requirement for becoming certified.
About the Facilitator
Annick De Swaef, CSAP is the CEO at Belgian Road Research Center. Prior to BRRC Annick was managing partner of Consensa Consulting; a Belgian based consulting firm specialized in strategic alliances and partnerships. As a civil engineer construction, Annick has worked in different managerial roles both within public as private organizations. She is passionate about the people and mechanics behind successful public private partnerships and advanced collaborative business models. Annick is
"ASAP certification is a way of demonstrating commitment to the profession. It encourages you to keep working on continuous education and personal development, and on helping to develop the body of knowledge."
Dr. Christoph Huwe, Ph.D., CSAP, Strategic Alliance Manager Therapeutics Bayer Pharmaceuticals
Please Note: Workshop registration does not include access to the 2022 European Alliance Summit.
Pricing
Members: $1,099
This is an ASAP Members-Only
Workshop
Note:
Members must be logged in to register for events.
Click here for cancellation policy.