Do Alliance Managers Have the Right Stuff to Succeed at M&A?
---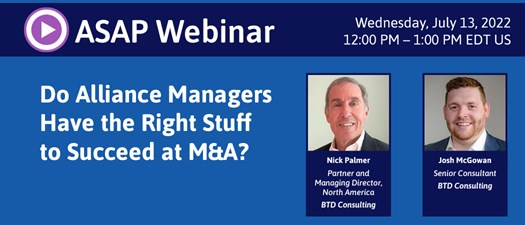 Please note:
ASAP certified member will receive .25 CEU for attending this program.
Speakers:
Nick Palmer | Partner and Managing Director, North America | BTD Consulting
Josh McGowan | Senior Consultant | BTD Consulting
Are you seeking new worlds to conquer? Do you think you have what it takes to ignite higher performance in your company's M&A? Are you ready for liftoff in the ascent to M&A leadership and beyond?
Alliance managers seeking new challenges in their quest to create value are increasingly turning to mergers and acquisitions, and the related area of M&A integration. It's a great place to apply their alliance management skills and learn new ones as well.
Ideal for seasoned alliance professionals—especially those looking to broaden their scope and expand their reach into M&A—this interactive webinar is a unique one-hour experience that will show you how M&A works, how it relates to alliance management, and the panoply of skills old and new required to make it successful. Drawing on real-world case studies and findings from their research, our BTD presenters, joined by some M&A clients, will lift the veil on the fascinating yet mysterious world of M&A.
This webinar presentation will help participants:
Examine the root causes of common M&A problems
Formulate ideas to resolve these problems using alliance management expertise
Learn about the best tools and techniques to measure M&A results
Understand how to apply alliance management skills to M&A and communicate their value to other stakeholders
Pricing
Members: FREE
Non-Members: $69
Note:
Members and guests must be logged in to register for events.
Do not have a log in? Please create an account and join our community.