Don't Let Them Eat Your Lunch—Collaborative Culture Applied to Ecosystems
Collaborative Connection Monthly
---
Thursday, October 5, 2023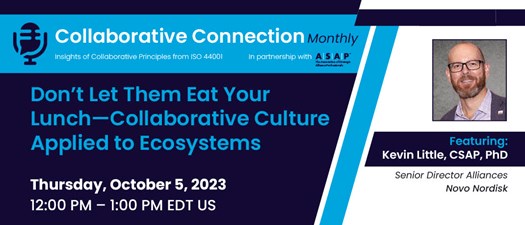 Featuring:
Kevin Little, CSAP, PhD
Senior Director Alliances
Novo Nordisk
Moderator:
Ann Trampas, CSAP
Professional Development Practice Lead, Phoenix Consulting
Senior Lecturer, University of Illinois - Chicago
Partnerships do not exist in a vacuum—and they don't automatically become "collaborative." They operate within the context of your company culture. If culture eats strategy for breakfast, then partnerships are likely to be on the menu for lunch and dinner. As ecosystems rapidly become the most prominent business model, what does this mean for nurturing a collaborative culture in an ecosystem partnering context?
Pricing
This is a FREE event, open to all
Member CEUs:
ASAP certified members will receive .25 CEUs for attending this program.
Note: Members and guests must be logged in to see "Register Now" button.
Don't have a login? Please create an account and join our community!