Future-Proofing Your Alliances: Risk Management in an Evolving Landscape
ASAP Webinar
---
Wednesday, October 11, 2023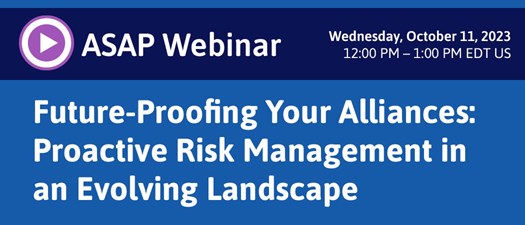 Featuring:
Louis Rinfret, PhD
Founder and CEO | allianceboard
Michael Roch, CA-AM
Chief Commercial Officer, allianceboard
In an ever-changing business landscape, strategic alliances face evolving risks that demand proactive management for sustainable and scalable success. This webinar delves into the critical aspect of future-proofing alliances through proactive risk management.
Discover industry best practices, and innovative technology that empower alliance managers to identify, assess, and mitigate potential challenges.
Learn how to foster a culture of risk-awareness, strengthen governance frameworks, and enhance decision-making to navigate uncertainties effectively.
Join us to equip your organization with the tools and insights needed to stay ahead and ensure the longevity and prosperity of your strategic partnerships.
Pricing
Members: FREE
Non-Members: $69
Member CEUs:
ASAP certified members will receive .25 CEUs for attending this program.
Note: Members and guests must be logged in to see "Register Now" button.
Don't have a login? Please create an account and join our community!