Hidden Gold: The Impact on Alliance Results from Overlooked Fundamentals
ASAP Webinar
---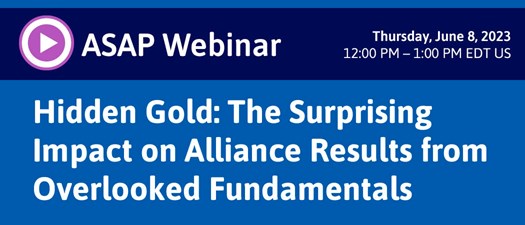 Presenters
Jan Twombly, CSAP
President, The Rhythm of Business
Board Member, ASAP
Jeff Shuman, CSAP, PhD
Co-founder, The Rhythm of Business
Professor Emeritus of Management, Bentley University
Alliance professionals are very busy people! You frequently have responsibility for too many alliances to give each the attention it deserves, leaving key operational details to team leaders who don't have alliance management expertise.
A meta-analysis of data collected through comprehensive assessments of alliances with joint research, co-development, and/or co-commercialization activities, together with evaluations of alliance management functions, finds gold hidden in the proper structuring and implementation of alliance operating models. When done right, there is as much as a 40% improvement in key outcomes measures.
Done wrong, goals aren't met and talented, highly-compensated people look for other options.
This webinar examines the components of an alliance operating model, shares the data from our meta-analysis, and offers practical frameworks, guidance, and examples you can put to immediate use to:
Align different company processes into a single, joint alliance process, bridging differences in risk tolerances and fundamental philosophies about research, development, and commercialization
Build a company-wide onboarding process that goes far beyond the terms of a specific agreement and helps integrate alliances into the fabric of your company
Conquer the communication challenge with a comprehensive program of both internal and cross-partner communications that minimizes the constant churn and resulting team member frustration from too-frequent "fire drills"
Pricing
Members: FREE
Non-Members: $69
Member CEUs:
ASAP certified members will receive .25 CEUs for attending this program.
Note: Members and guests must be logged in to see "Register Now" button.
Don't have a login? Please create an account and join our community!