In Partners We Trust: A Key Element in the Formula for Alliance Success
---
Thursday, November 17, 2022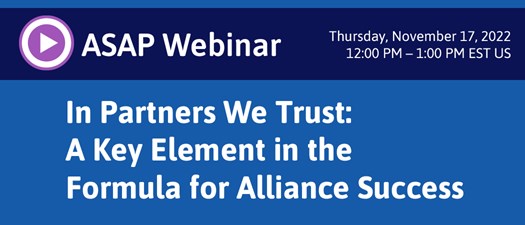 Please note:
ASAP certified member will receive .25 CEU for attending this program.
Panelists:
Lena Frank, CSAP
Vice President, Program Management | Eisai
Chris Pogue
SVP, Head of Strategic Alliances | Nuix
Anoop Nathwani
Director | Consortio Consulting
Moderator:
Michael J. Burke
Editor in Chief & Senior Editorial Consultant | ASAP
Trust may seem like an abstract concept, an airy ideal—until you find it's been compromised in your alliance relationship. To paraphrase Warren Buffett, trust is like oxygen: you don't notice it when it's there, but you certainly do when it's absent.
Our distinguished panel of alliance leaders will share some of the secrets of building trust in an alliance and keeping it flowing in both directions. Among the key lessons:
The trust-communication connection
How trust can actually deliver alliance value
Why untrustworthy partners end up losing out
How to repair trust that has been eroded or broken
Can you have a successful alliance without trust?
Why trust might be the one factor that can make or break alliance relationships
Pricing
Members: FREE
Non-Members: $69
Note: Members and guests must be logged in to see "Register Now" button.
Don't have a login? Please create an account and join our community!