Leadership and Skills in Managing an Alliance in a Matrix Organization
ASAP Webinar Series
---
Thursday, October 14, 2021
Zoom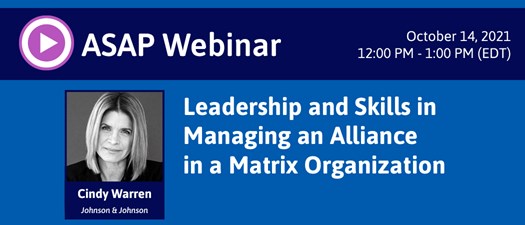 Overview
In "matrix organizations"–those working on multiple, complex, often large-scale projects with at least two chains of command–building and maintaining the alliance function "all comes down to leadership." This is one of the key observations Cindy Warren will share during her upcoming webinar.
In an enterprise running multiple projects across multiple functions–and with multiple partners–who will tie it all together? Who will serve as the voice of the alliance and be the advocate for the partner, as needed?
The alliance manager, of course.
Join us as Cindy shares the challenges, issues, and important insights that come with matrix organizations and their increased partnering complexity. Warren will bring to light the critical role of leadership and emphasize that the value of the alliance function must be woven into the fabric of the organization.
About the Speaker
Cindy Warren
VP Business Development, Global Neuroscience & Japan Region Johnson & Johnson
Lucinda (Cindy) leads the Neuroscience Business Development Team globally and all business development activity in Japan as a Region, including scientific finding, licensing transactions, mergers, acquisition, out licensing, divestitures and alliance management. With over 25 years of broad industry experience, Lucinda began her pharmaceutical career in Canada. In 1999, she joined the Johnson & Johnson Family of Companies and has held various USA and Global roles of increasing responsibilities, including Sales, Marketing, New Product Development, Alliance Management, and Business Development Leadership. Lucinda has been responsibility for the leadership and oversight of some of Johnson & Johnson's longest and largest global commercial alliances.
Activity involved in the alliance community, Lucinda currently serves as a Board Member on the Association of Strategic Alliance Professionals (ASAP) , as Chair of their Membership Committee. Lucinda received her Bachelor of Science degree from the University of Alberta, Canada.
You must be signed in to register for events.
Pricing
Members: FREE
Non-Members: $69