Managing Internal Stakeholders—Getting the attention and resources you need
Vantage Partners and ASAP Interactive Master Class
---
Wednesday, November 9, 2022
at
1:00 PM (EST)
to Thursday, November 10, 2022 at 2:30 PM (EST)
Zoom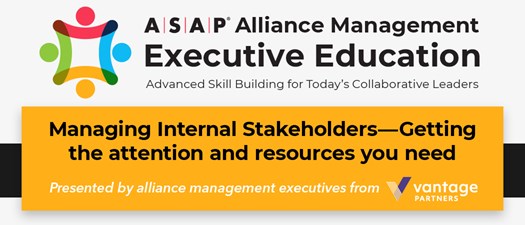 Wednesday, November 9 and Thursday, November 10
1:00 PM - 2:30 PM EST US each day.
Please note: ASAP certified member will receive 1.00 CEU for attending this program.
Facilitators:
Jess Wadd
Jonathan Hughes
Alliance managers often encounter significant roadblocks when trying to secure attention and resources for a partnership, even after executives have given the green light. A Vantage Partners 2020 study on partnerships found that internal factors contributed most to alliance underperformance in companies that describe partnerships as "very important." Attendees who participate in this interactive workshop will walk away with:
Insights about common pitfalls to avoid in building internal support for alliances
Enhanced ability to build internal stakeholder alignment and commitment
Strategies for engaging external alliance counterparts to assist with internal challenges
Join our Vantage Partners hosts to learn how to manage internal stakeholders and ensure your partnership is a success.
Pricing
Members: $299
Non-Members: $499
Note: Members and guests must be logged in to see "Register Now" button.
Don't have a login? Please create an account and join our community!