Master Class: Start Your Alliance Right or Start It Again
---
Thursday, June 23, 2022
at
11:30 AM (EDT)
to Friday, June 24, 2022 at 1:00 PM (EDT)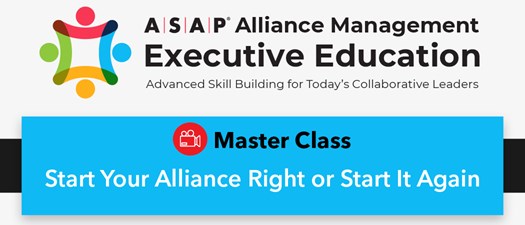 Course Dates and Times:
Thursday, June 23 | 11:30AM - 1:00PM EDT US
Friday, June 24 | 11:30AM - 1:00PM EDT US
Overview
Facilitators:
Jan Twombly, CSAP | President | The Rhythm of Business
Jeff Shuman, CSAP, PhD | Principal | The Rhythm of Business
A new alliance is a lot like a new business startup. You must start it right or inevitably have to start it again—usually in the midst of conflict or when trust and oppor­tunity have been lost. The first 60 to 90 days after an alliance is agreed to are a critical time when it is either set up for success or stumbles out of the gate. It is a fast-paced, high intensity time demanding the alliance professional's focus on both far-reaching strategic issues as well as mundane, but essential tasks. It is also a time to establish the relationships that will allow the alliance to navigate the inevitable challenges.
This master class explores how to make the startup process more agile and value creating for stakeholders. It defines five critical workstreams as the organizing framework for the process, together with the key deliverables for each workstream, based on the type of alliance. Participants will work through industry specific case studies (a biotech/big pharma R&D example and a software vendor/systems integrator go-to-market example) to:
Identify the potential value-eroding inefficiencies and risks in the case studies that must be addressed
Develop a high-level plan for a fast-paced, agile startup
Identify the must have deliverables of the startup process
Participants will receive a copy of Start it Right: Mastering the Alliance Startup Process, The Rhythm of Business' white paper with detailed guidance, together with industry specific checklists.
What you will learn:
How to use the five workstreams to organize the work of the startup process
How to identify and capture the ways alliance professionals can make the startup process more agile and value creating for stakeholders
Recognize the value-eroding risks prevalent in the startup period
How to enroll stakeholders in the startup process
About The Rhythm of Business:
Strive for alliance management excellence with The Rhythm of Business as your guide. Whether you are just getting alliance management started in your company or evolving an existing program, our consulting services and Learning in Action™ training programs for alliance professionals and alliance team members empower you to reach higher levels of partnering success. The Rhythm of Business helps you evolve alliance management to meet the increased demand from stakeholders for high-value services. Join the growing roster of our clients who have won ASAP Awards in part by using our assessment services to improve results. Automate and scale your practice with our guidance using modern digital tools.
You must be logged in to register for events.
Pricing
Members: $299
Non-Members: $499