More Than Meetings, Stronger Than Coffee: Brewing Up Better Tech Governance
ASAP Webinar
---
Thursday, November 16, 2023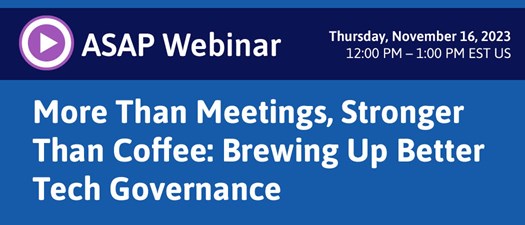 You've shaken hands and come to an agreement to launch your new and promising tech alliance. Congratulations! Now, how are you planning to run this thing? Wait, you mean you didn't think about that part amid the bubbly bonhomie? Welcome back to reality. Any tech alliance worth its silicon needs governance—and that means more than just scheduling a bunch of meetings, sending out for coffee and Krispy Kremes and calling it a day. Alliance governance at its heart is a mindset, and a system of managing an alliance relationship, operationalizing the partnership, optimizing its performance, and keeping everything—and everyone—on track. That includes getting all stakeholders aligned, figuring out who's talking to which customer, whose sales force is involved—and if we're all on the same page, exactly which page are we on? In this webinar, inspired by an article in the Q3 2023 issue of Strategic Alliance Quarterly ("Tech Governance 101"), our panel of experienced tech partnering leaders will give you the high-level lowdown on these and many other finer points of tech alliance governance.
Pricing
Members: FREE
Non-Members: $69
Member CEUs:
ASAP certified members will receive .25 CEUs for attending this program.
Note: Members and guests must be logged in to see "Register Now" button.
Don't have a login? Please create an account and join our community!