Skilled Partnering Techniques for Today's Challenging, Dynamic Environment
ASAP Webinar
---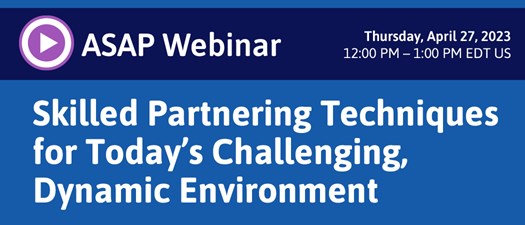 Speakers:
Mary Beth Campbell, CA-AM
Senior Director, Alliance Leadership | Vir Biotechnology
Ravi Kolla, CA-AM
Vice President, Alliance Leadership | Vir Biotechnology
Even under the best of circumstances and in normal times, building and maintaining successful alliances is challenging. But what ever happened to "normal times"? The world we're living and working in now has profoundly changed, with many new hurdles introduced into the race to alliance value creation—from lingering pandemic challenges to supply chain issues to geopolitical and economic uncertainties. Entire ecosystems have been affected, from large-scale alliances to smaller collaborations to supplier and contractor relationships. Alliance management has been forced to adapt and be flexible to partnering our way through an increasingly hybrid, complex, and dynamic environment—often at a breakneck pace. So what can alliance leaders do to ensure that new and existing partnerships will thrive, grow, and succeed in these conditions? In this webinar, the presenters will delve into the outcomes and insights from often-overlooked early-stage research collaborations, "nontraditional" alliances, and other partnerships, and explore how the adoption of technology can make a positive impact with both internal stakeholders and external partners. Among the topics to be covered:
How a combination of the human touch—including creativity and problem solving—and the skilled application of technology solutions can enhance traditional alliance management methods.
Agile adaptations of alliance management tools and techniques to meet the demands of an evolving, uncertain environment.
The enlightened management of early-stage research alliances to yield outsized ROI and truly novel innovations, reducing risk for biotech and pharma partners alike.
Pricing
Members: FREE
Non-Members: $69
Member CEUs:
ASAP certified members will receive .25 CEUs for attending this program.
Note: Members and guests must be logged in to see "Register Now" button.
Don't have a login? Please create an account and join our community!