PX = CX = Revenue
Decoded: Partner Experience = Customer Experience = Revenue
---
Wednesday, November 17, 2021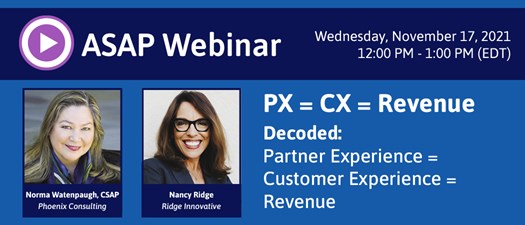 Speakers:
Norma Watenpaugh, CSAP
Founding Principal | Phoenix Consulting
Nancy Ridge
President | Ridge Innovative
Forrester widely quotes that 70% of world trade goes through or is influenced by a partner or third party before it reaches a customer.
What that nets out to is "Partners are the Customer Experience." While the business world has been obsessed of late with the customer experience, no one has really examined the partner role in the customer experience. Phoenix Consulting Group, in collaboration with Ridge Innovative, has initiated a study to tie down that relationship. We have been interviewing dozens of partners, vendors, and a few of their customers to understand how partners contribute to a compelling customer experience and what vendors can do to ensure their partners are empowered and equipped to deliver that experience.
Here are some of the dimensions we explore;
How do partners represent your brand?
How do you ensure a quality experience through partners?
What do partners want from you to better serve and satisfy customers?
Is there parallel partner journey to the customer journey?
How to build a culture that is customer-centric and partner-centric but never ego-centric?
About the speakers:
Norma Watenpaugh, CSAP
Founding Principal, Phoenix Consulting Group
Norma Watenpaugh is the founding principal and CEO of Phoenix Consulting Group (www.phoenixcg.com) which provides education and consulting services with expertise in go-to-market strategy, channel and alliance management, and ecosystem development. Prominent clients include Amazon, Adobe, Cisco, Dupont, Dell, Google, Nationwide, PayPal, and SAP. She was named a Woman of Influence in Silicon Valley by the Silicon Valley Business Journal for her work in advancing best practices in Collaborative Business Relationships. She was recently inducted into the Forbes Business Council, an invitation only community of successful business leaders.
Norma has delivered seminars for Duke Corporate Education, the Reuters Foundation, Digital Vision Fellowship Program at Stanford University, San Jose State University Professional Development, the American Management Association, and many corporate clients. She is a frequently requested guest lecturer and speaker at industry events speaking on partnering trends in Business Ecosystems and Digital Transformation.
Norma is an advisory board member of the Association of Strategic Alliance Professionals and former Best Practices Committee Chair. She has led the organization in developing the CA-AM and CSAP professional certifications and in revitalizing the ASAP Handbook of Alliance Management. She led the US delegation to the ISO standards committee in developing the ISO-440001 Collaborative Business Relationship Management Standard.
Nancy Ridge
President, Ridge Innovative
Nancy Ridge is president of Ridge Innovative; a trusted advisor to her clients. She brings a laser focus on enabling business outcomes through technology. In addition, Ridge offers programs for developing and optimizing channel ecosystems through automated enablement, leadership coaching, team selling and one on one professional coaching.
Previously, Nancy built the partner program for a leading national master agency that was known for a personalized approach to partner growth through business plan modeling, breakthrough sales strategies, ongoing training in a collaborative environment. Ridge also led sales for a high-touch wholesale carrier where she was responsible for creating and managing the indirect sales channel. The company won #41 on the "Inc. 500" list of fastest growing companies with over 2,000% growth. Prior to that, as vice president for a cost containment consulting firm, she helped pioneer telecom expense management and was a principal in a demand-side energy service company for 10 years.
Ridge regularly speaks on panels, acts as a moderator and serves as a keynote on topics ranging from technology to mentoring and gender diversity. She is the co-founder and past president of the Alliance of Channel Women, a Silver Stevie recipient for Executive of the Year, and an enthusiastic mentor for women and girls in both the workplace and her community.
You must be signed in to register for events.
Pricing
Members: FREE
Non-Members: $69