State of Alliance Management in 2022
---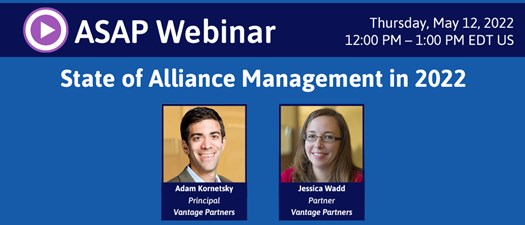 Featuring
Adam Kornetsky | Principal | Vantage Partners
Jessica Wadd | Partner | Vantage Partners
Join Vantage Partners for an exciting webinar on the state of alliance management in 2022 and what the future of alliances looks like. Throughout the discussion, Vantage will highlight trends over time within and across industries, discuss the impact alliances are having on companies, and share insights about how the best performing organizations are evolving and planning for alliance success.
Adam Kornetsky | Principal | Vantage Partners
Adam Kornetsky is a principal at Vantage Partners, where he focuses life sciences and healthcare. Adam helps clients unlock the value of collaboration and achieve breakthrough results in a changing healthcare landscape. His experience includes advising organizations on building and executing alliance management capabilities, designing and implementing change management and organizational design initiatives, conducting partnership launches and health checks, and facilitating negotiation and conflict management training. Adam has also supported many clients in their goal of creating a more innovative business environment.
Adam has co-authored several articles on navigating complexities in healthcare partnerships, on topics that include virtual alliance launches and engagement model due diligence. He speaks regularly at Association of Strategic Alliance Professionals (ASAP) conferences and frequently leads workshops at the Strategic Alliance Management Congress, exploring topics such as "Managing and Executing Pharma-Digital Partnerships" and "Alliance Managers as Interventionists."
Adam received his MBA with honors from Boston University's Questrom School of Business, with a concentration in Health Sector Management and focus on Leadership and Organizational Transformation. He received his BA in International Relations and Economics from Tufts University.
Jessica Wadd | Partner | Vantage Partners
Jessica Wadd is a Partner at Vantage Partners, where her practice focuses on helping companies maximize the value of collaboration in their most critical alliance, customer, and supplier relationships. She frequently leverages ideas from the fields of behavioral economics and game theory to help clients develop practical approaches for improving their businesses through partnering. Jessica has worked with clients across a broad range of industries, including high-tech, manufacturing, financial services, life sciences, healthcare, and professional services. Jessica holds an MSc in Behavioral Economics from the University of Nottingham as well as BAs in both English and Economics from Bryn Mawr College.
You must be logged in to register for events.
Pricing
Members: FREE
Non-Members: $69