Subscription Models Rock Tech Partnering and Expand the Customer Journey
---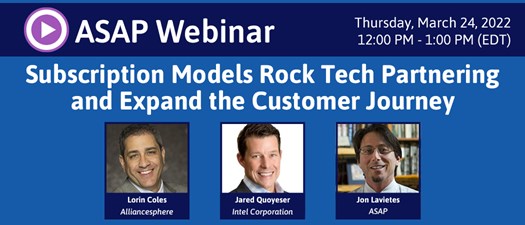 Panelists
Lorin Coles
CEO and Managing Director | Alliancesphere
Jared S. Quoyeser
US Director, Global and National System Integrators | Intel
Moderator
Jon Lavietes
Staff Writer | Association of Strategic Alliance Professionals
The transition to monthly subscription–based business models is upending partner compensation in tech. In a previous era, vendors and their partners could take their respective slices from one very large pie created when customers plunked down a single (often hefty) cash sum at the point of transaction. Today, that large amount of money is being spread across significantly smaller monthly increments. So how do tech players compensate the partners who are executing critical marketing and sales activities before the transaction and essential customer service and support after the deal is consummated without the benefit of receiving such a large pile of revenue at the point of sale? Join us for this fascinating panel discussion that will uncover novel ways to compensate partners within the parameters of the new subscription models.
About the panelists and moderator
Lorin Coles
CEO and Managing Director, Alliancesphere
Lorin Coles brings over twenty years of thought leadership and operational expertise in the areas of sales, alliance, channels, business development and ecosystem value creation.
Lorin founded Alliancesphere, a collaborative execution consultancy in 2002. He and his team work directly with Global 2000 clients and emerging start-ups to craft leading practices to help clients create, deliver and capture value through evolving/new business models, next-gen GTM/RTM, and end-to-end integrated last-mile execution programs that deliver measurable outcomes.
Previously, Lorin served as senior vice president of alliances for Scient/iXL where his team created an industry-leading program recognized as "Best-in-Class" by Gartner. He previously served as chairman for the American Israel Chamber of Commerce (AICC) in Atlanta. Lorin was a founding member and past president of the Southeast Chapter of ASAP. Currently, he serves as a mentor and advisor to Engage Ventures and DRIVE.
Jared Quoyeser
US Director, Global and National System Integrators | Intel Corporation
Jared S. Quoyeser is currently the US director, global and national system integrators at Intel leading transformation across technology partner ecosystem and accelerating revenue attainment. Prior to his current role, Jared served as director, Americas vertical segments for Intel Americas, where he led vertical segment business strategy, strategic marketing and revenue attainment teams for state and local education, federal, healthcare/life sciences, financial services, energy, and retail verticals. Jared has also held business and market development positions at Intel, including worldwide wireless market development and strategic business development for the cellular handheld division.
Prior to joining Intel, Jared served in various management and business development roles for Sutter Health, MD Anderson Cancer Center, Columbia/HCA, and Physician Corporation of America.
Jared holds a Masters of Healthcare Administration and Business Administration from the University of Houston and Bachelor of Business Administration from the University of Louisiana.
Jon Lavietes
Staff Writer | Association of Strategic Alliance Professionals
Jon Lavietes is a staff writer on ASAP's editorial team where he composes feature stories, blog posts, and social media posts for the association's print magazine, newsletter, website, and social channels. He previously held the editorial director for the previous iteration of the association's flagship magazine, organization newsletter, and company blog a decade ago.
Jon is originally trained in public relations and brings more than two decades of PR and copywriting experience. He holds a Bachelor's degree in political science from Washington University in St. Louis.
You must be signed in to register for events.
Pricing
Members: FREE
Non-Members: $69