Tech and Pharma Partnering: Chocolate and Vanilla? or Fudge Swirl?
ASAP Webinar
---
Wednesday, December 7, 2022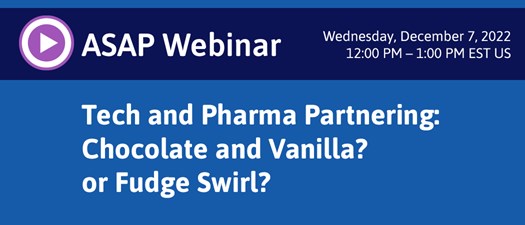 Please note:
ASAP certified member will receive .25 CEU for attending this program.
Featuring:
Alison Handley
Vice President, Head of Strategy & Operations, Center for External Innovation
Takeda
Christina Neary
Corporate Vice President, Global Microsoft Alliance
Avanade
Tech and pharma partnering: Are they really so different? Are there areas of intersection, or are these two distinct worlds? Find out the answers in this special ASAP Fireside Chat webinar, as two alliance leaders, one from each industry, compare and contrast the inner workings and partnering practices of the information technology and biopharma verticals. With ASAP President and CEO Michael Leonetti, CSAP, as moderator, these experienced partnering professionals will explore various situations and challenges from the perspectives of both their industries and their organizations. Join us for this unique conversational webinar to hear their great insights on issues including:
The overall approach of each industry and organization to the management of alliances and partnerships
How strategic thinking is involved in what these alliance leaders do every day and how it affects their alliances, partnerships, and alliance portfolios
The importance and impact of building and maintaining trust in partnering relationships
Conflict resolution and conflict management situations and how they play out over different timelines
Pricing
Members: FREE
Non-Members: $69
Note: Members and guests must be logged in to see "Register Now" button.
Don't have a login? Please create an account and join our community!