The Right Stuff: Tools of the Trade for Partnering Capability
---
Thursday, September 1, 2022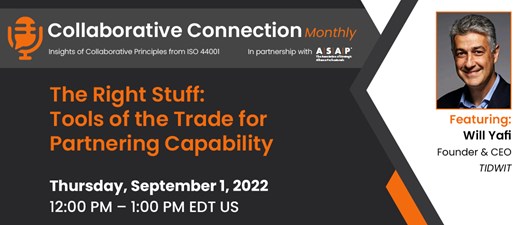 Please note: ASAP certified members will receive .25 CEU for attending this program.
Featuring:
Will Yafi
Founder & CEO | TIDWIT
Achieving true partnering capability means adopting appropriate tools and having the right infrastructure to facilitate a partnering work environment and to accelerate partnering outcomes. Ideally these tools will be integrated into digital workflows that then become a system of record for both (or all) partners in a collaboration. Our speaker will discuss some of the most important tools in the partnering tool box and how they can be used to create more productive and consistent outcomes through partnering.
About Featured Guest:
Will brings more than 20 years of international entrepreneurship experience in Information Technology (IT). Will began by founding Intent at the age of 23, a Knowledge Management firm in South America in 1993. By 1999, Will had grown the business to three regional offices. That same year, the firm was acquired by an American B2B firm, which Will joined as VP for emerging markets, where he successfully launched a partner program covering the Americas. Will moved on in 2003 to found a partner training consulting business, which formed the basis of TIDWIT. Founded in 2018, TIDWIT's mission is to provide innovative content and empower learning to organizations all over the world.
His work has taken him to five continents launching learning initiatives and training programs and deploying TIDWIT platforms that are helping establish organizational learning communities worldwide. Will holds a master degree in public administration and international development from Harvard University.
Pricing
This is a FREE event, open to all
Note: Members and guests must be logged in to see "Register Now" button.
Don't have a login? Please create an account and join our community!