Top Five Opportunities for Getting a Little Better Every Day
---
Thursday, February 24, 2022
Zoom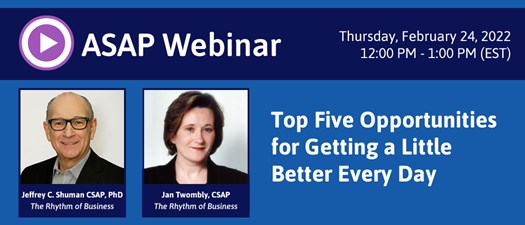 Operational excellence in the fundamentals of alliance management is something every professional strives for—every day. Excellence is always our North Star and focusing on five core practices produces significant, measurable gain in alliance outcomes and perceived value of alliance management to stakeholders. Despite good intentions, it can be a challenge to excel at the fundamentals when the urgencies of the day intervene.
This webinar draws upon two years of data gathered through in-depth assessments of complex alliances, baseline evaluations of alliance management functions, executive roundtable discussions, and master classes with ASAP members to demonstrate how every alliance professional can enhance their ability to deliver value.
Practical tools and learnings presented include:
A step-by-step inquiry process to create alignment to guide an alliance's decision making
A chartering process and Collaborative Leadership Agenda to establish an alliance's operating model, distribution of responsibilities, and desired behaviors
A framework for comprehensive and holistic communications within the alliance and between the alliance and its member partners
Focusing on getting a little bit better every day in your implementation of alliance fundamentals helps alliance teams be more agile, make better decisions, and have more valuable and productive partnerships.
About the Speakers:
Jeffrey C. Shuman CSAP, PhD
Principal, The Rhythm of Business
Professor Emeritus of Management, Bentley University
Jeff is an educator and trusted advisor to executives who are building, leading, and managing alliances and partner networks. His mix of operational, consulting, research and classroom experiences allow him to blend the theoretical with the practical, providing useful, easily implementable and repeatable advice.
At The Rhythm of Business, he partners with global companies in multiple industries to advance their alliance and collaboration management capability. Consulting engagements focus on driving results through enabling all functions of the business to work effectively with their partners throughout the lifecycle. He works with senior executive teams to shape partnering strategy, enable operational and organization readiness, and implement overarching governance. Partnering professionals benefit from his ability to quickly diagnose underperforming alliances, and accelerate the path to profitability. Customized education and training bring alliance and collaboration skills to all who interact with partners.
Jeff has been a member of ASAP since 2002. He was involved on the teams that developed the Certificate of Achievement – Alliance Management (CA-AM) certification and the CSAP certification and contributed to The ASAP Handbook of Alliance Management. He frequently presents at ASAP and other organization's conferences and events. Together with business partner Jan Twombly, he has a rich history of developing and publishing strategic and practical thinking that advances the art and science of partnering and alliance management.
Jan Twombly, CSAP
President
The Rhythm of Business
Jan Twombly, Certified Strategic Alliance Professional (CSAP), is president of The Rhythm of Business, a consultancy and advisory firm with core expertise in partnering, strategic alliances, and collaboration. For more than 20 years, she has been developing and sharing thought leadership to enable more collaborative ways of working and to achieve success through partnering and alliances.
Jan is a trusted advisor to leaders in both industry and academia, helping to develop their organizations' ecosystem partnering and alliance strategies. She offers education and training services to build the mindset, skillset, and toolset needed to succeed. Her clients count on her to advise on establishing new alliances, develop alliance management process and procedures, and to step in when alliances are in trouble. Data-driven, contextual assessments of complex alliances provide deep insights that solve problems and drive measurable improvement.
Her current emphasis is on working with alliance professionals to reimagine how alliance management is implemented in an environment of increasing demand and digitizing its workflow and reporting.
Jan serves on the Board of Directors of the Association of Strategic Alliance Professionals (ASAP), overseeing their editorial and content strategy. She is a frequent contributor to Strategic Alliance Quarterly, regularly speaks on collaboration and partnering, and together with Jeff Shuman, CSAP, PhD authors The Partnering Guide blog and numerous whitepapers at www.rhythmofbusiness.com.
You must be signed in to register for events.
Pricing
Members: FREE
Non-Members: $69