A Two-Way Street: Better Communication for Partner Managers
Collaborative Connection Monthly
---
Thursday, November 3, 2022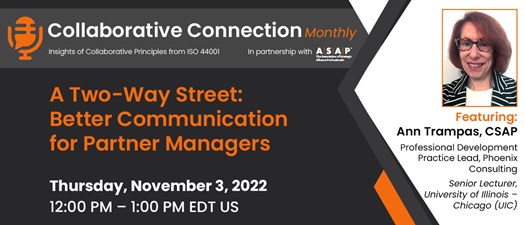 Featuring:
Ann Trampas, CSAP Professional Development Practice Lead, Phoenix Consulting Senior Lecturer, University of Illinois – Chicago (UIC)
Effective communication not only provides information but builds trust among partnering stakeholders. In fact, communications might just be Job #1 for partner managers. Understanding what needs to be communicated to whom, and when, with what context, is crucial to maintain partner operations. It is also important to understand both the formal and informal channels of communications—frequently it's the informal channels that matter the most. Our speaker will discuss how to create a communications plan not just to transmit, but also to listen, across organizational boundaries to create shared understanding.
Pricing
This is a FREE event, open to all
Note: Members and guests must be logged in to see "Register Now" button.
Don't have a login? Please create an account and join our community!