Beyond Revenue: Measuring the Full Value of Your Collaborations
---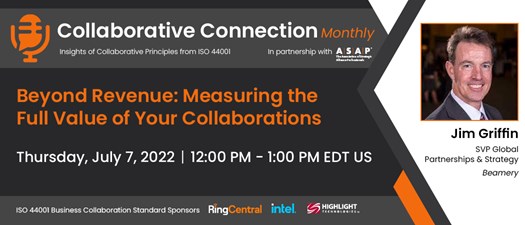 Please note:
ASAP certified members will receive 0.25 CEU for attending this program.
Featuring:

Jim Griffin
SVP Global Partnerships & Strategy | Beamery
Alliances are business entities that create value in both tangible and intangible ways, and while revenue certainly matters, revenue is an outcome, and as a single metric it cannot give you the depth of view needed to measure the full value of an alliance or help you to optimize that value. It's like trying to measure the performance of your car by only checking the speed. The speedometer can tell you how fast you're going, but not where you're heading or whether you're running out of fuel. Our speaker will discuss which metrics truly matter—beyond traditional contract-driven KPIs—and how appropriate predictive metrics can help you create action plans to better manage performance outcomes.
You must be logged in to register for events.
Pricing
This is a FREE event, open to all