Advanced Alliance Series: Conflict Management
---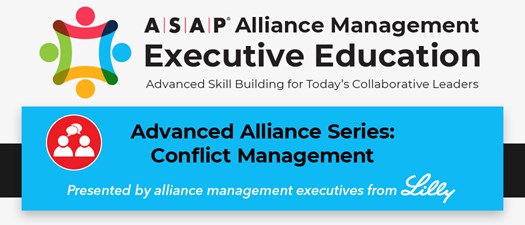 Presented by Dr. Victoria Dalton PhD and alliance management and legal executives from Moderna and Eli Lilly and Company
Building on the success of other sold-out virtual workshops pioneered by executives from Eli Lilly and Company, this program further develops the core skills of alliance management, with a focus on conflict management. The instruction and practice are derived from Dr. Victoria Dalton's extensive clinical and professional coaching practice, and the experiences of a veteran patent attorney and general counsel Elizabeth Dingess-Hammond of Moderna, and David Thompson, Chief Alliance Officer of Eli Lilly and Company, focused on managing alliance conflict from their unique perspectives and experiences. Attendees of the workshop will be better prepared to manage conflict to value producing outcomes.
Obstacles exist in every business relationship. How they are managed both internally and externally is what can cause relationships to fail or help them become extraordinary. Conflict, occurs when those within the alliance disagree over values, interests, motivations, perceptions, ideas, and/or desires. Collaborative techniques can strengthen high performance process and capitalize on conflict to create better decisions and positively impact the alliance.
During this engaging "hands-on" workshop participants will learn the best ways to address and manage conflict in an alliance through classroom instruction, direct coaching and feedback, and conflict roleplay and practice based on real life scenarios.
Workshop exercises, including group activities, will help attendees develop and more finely tune their conflict management skills, as well as communication, influencing techniques. These skills and techniques will benefit alliance teams to better navigate day to day situations whereby issues and conflict arises that can potentially affect or even stall the success and timeline of the alliance.
Who should attend:
Seasoned alliance management professionals regardless of industry
Individuals who are the sole alliance professionals at their organizations
Leaders within a company's alliance management group or those who desire to become a department leader
You must be logged in to register for events.
Please Note: Workshop registration does not include access to the 2022 Global Alliance Summit.
Pricing
Members: $950
Non-Members: $1,140