North Star, or South Pole? What to Do When a Partnership Goes Off the Rails
ASAP Roundtable
---
Wednesday, April 19, 2023
Zoom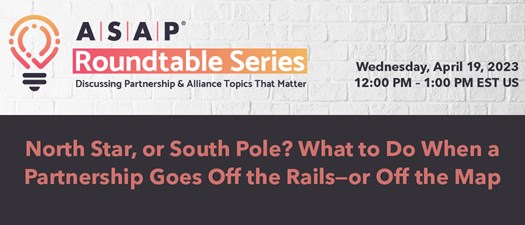 Alliances go astray for any number of reasons: Technical failure. Market changes. An alliance champion leaves for greener pastures. A strategy change causes one partner to "go in a different direction." Turnover and turbulence threaten to derail the partnership just as it's picking up steam. So what's the solution? Gripe sessions where you "air it all out"? Angry phone calls? Longer meetings? Close reading of the contract? Sobbing under your desk? Ever resourceful, alliance professionals have found myriad ways and means of steering their partnerships back onto the straight and narrow—and heading off the unexpected detours that can introduce major risks, and even bring about alliance failure. Join us for this lively conversation about what to do when your alliance train leaves the station—going the wrong way.
Pricing
This is an ASAP Members-Only event.
Members: FREE
Member CEUs:
ASAP certified members will receive .25 CEUs for attending this program.
Note: Members must be logged in to see "Register Now" button.
Don't have a login? Please create an account and join our community!