Risk Management and Collaborative Relationships
---
Thursday, October 21, 2021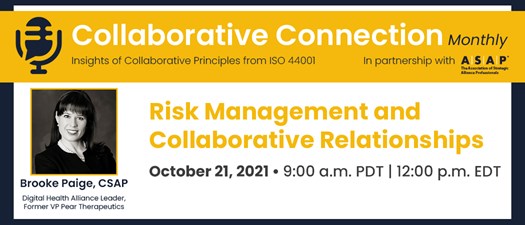 Overview
Speaker:
Brooke Paige, CSAP
Digital Health Alliance Leader, Former VP Pear Therapeutics
Fireside chat facilitated by:
Greg Burge, CSAP
President of Collaborative Partnering Services
All business ventures have risk associated with them. Some business collaborations are formed specifically as risk mitigation measures, while others incur unique risks in the course of their operation. For organizations that are not skilled at managing collaborative relationships, there can be higher risks in delivering value from the collaboration because the skill sets to manage cultural or operational differences are not present. The fact that partners may each have a different tolerance for risk can itself be a risk in the partnership.
About the Speaker
Brooke Paige, CSAP
Digital Health Alliance Leader, Former VP Pear Therapeutics
Having worked in the biopharmaceutical industry for over 20 years, Brooke has worked with numerous commercial, development, research and academic alliances, and has been a frequent speaker on trends in the alliance space.
As a Sloan Fellow at London Business School, Brooke wrote her graduate thesis on how to optimally structure and manage biopharma alliance collaborations, and subsequently became one of the first Alliance Managers in the biopharma industry. She is a Certified Strategic Alliance Professional (CSAP), and was elected to the Board of ASAP, the Association of Strategic Alliance Professionals in 2014, serving as Chairman of the Board since 2016.
Brooke possesses extensive global experience, having lived and worked in several countries, including the UK, Germany, France and Japan. She is a high honors graduate of Mount Holyoke College, and was a Sloan Fellow at London Business School. In 2011, Brooke became the 88th woman in the world to run a marathon on all seven continents.
You must be signed in to register for events.
Pricing
This is a FREE event, open to all