Post-Pandemic Partnering: What Will It Look Like in Your Industry?
ASAP Roundtable
---
Wednesday, October 13, 2021
11:00 AM - 12:30 PM (AUS Eastern Daylight Time)
Zoom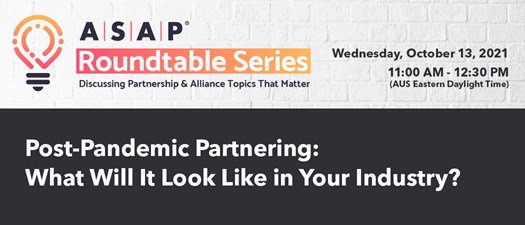 ---
Please note: this event takes place during Australia Eastern Daylight Time (11:00am in Australia/8:00pm Eastern in the US)
---
Over the course of the COVID-19 pandemic, many companies across industries were compelled to make changes to how they operated, and many of these changes had a significant impact on partnering.
Join us for a 20-minute presentation followed by facilitated roundtable discussions led by;
Norma Watenpaugh, CSAP | CEO & Founding Principal | Phoenix Consulting Group
Philip Sack, CSAP | CEO | CollaboRare
Jonathan Oh, CA-AM | Director of Alliance Management | Samsung Bioepis
Discussion will be geared toward the Asia-Pacific Community and will include topics such as:
What operational or process areas changed the most for you during the pandemic?
What did you or your company decide to do differently due to COVID-19, and will any of those decisions lead to permanent changes to how you partner?
How do you see the "next normal" shaping up for your organization and its partnerships and alliances?
Join other ASAP members in this FREE member only event. As a benefit of membership for those in the Asia-Pacific region you are entitled to bring one partner/guest to the event. During registration you will be asked to provide contact information of your guest so that they will receive all event communications, including a Zoom link to join the event. Breakout rooms will be distributed among industry verticals.
You must be signed in to register for events.
Pricing
Members: FREE
This event is only available to current ASAP members.