Climate Tech Alliances, Startups, and Acquisitions
---
Wednesday, July 26, 2023
11:00 AM - 12:00 PM (EDT)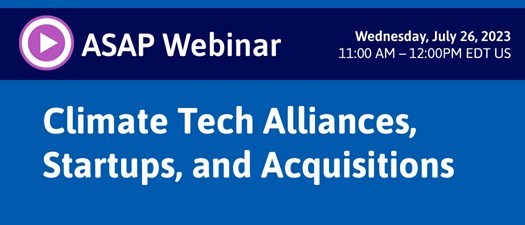 Panelists:
Brea Dutt | Senior Product Manager | Sense
Ben Gomes-Casseres, CSAP | Professor, Brandeis University | Author, Remix Strategy
Alistair Pim | Vice President Innovation and Partnerships | Northeast Clean Energy Council (NECEC)
Vikram Aggarwal | CEO and Founder | EnergySage
A rich ecosystem of climate tech startups has emerged in the New England and New York, giving rise to partnerships of many sorts. Small startups partner with corporate venture groups, or with each other, and large companies, too, have struck major deals with each other. This is to be expected in a sector rife with a "remix" of ideas and capabilities, and where new business combinations are a key to the energy transformation.
This panel will introduce you to this climate tech ecosystem, and share lessons from deals made and unmade. The stakes are high, as always – good partnerships can help develop and spread the technologies we need to fight climate change. We will discuss how large and small companies approach partnership issues, and welcome discussion with attendees.
Pricing
Members: FREE
Non-Members: $69
Member CEUs:
ASAP certified members will receive .25 CEUs for attending this program.
Note: Members and guests must be logged in to see "Register Now" button.
Don't have a login? Please create an account and join our community!