The Expanding Role of Alliance Professionals in Nontraditional Partnering
---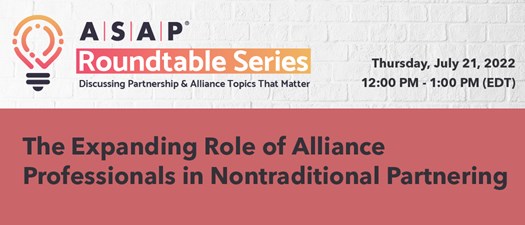 Please note: ASAP certified members will receive .25 CEU for attending this program.
"Traditional" alliance management was not designed to address the requirements of fast-moving digital and other "nontraditional" types of partnerships geared toward disruption and innovation. So how can it be adapted and flexed to apply to such partnerships and meet their growing needs? And how can alliance professionals educate themselves to become more nimble and adjust to these changes? This cross-industry roundtable, introduced by former ASAP board chair Brooke Paige, CSAP of Novartis, will examine:
How to "ride the tiger" of innovation without slowing it down with older, legacy thinking
Ways to speed up decision making and other processes for digital partnering, as well as to make internal governance structures more efficient
How to educate and enlist the support of senior leaders, on the one hand, and help alliance managers become more tech savvy, less technophobic on the other
Effects of digital partnering on trust, IP, resourcing, budgets, and risk
Attendees will join other ASAP members in breakout rooms based on geographic location.
Joining Brooke to lead the room discussions are ASAP community leaders;
Aida Bendt, CA-AM | AstraZeneca
Emma Barton | AstraZeneca
Diana Favia McDevitt, CA-AM | GE Healthcare
Vin Sharma | Alnylam Pharmaceuticals
This is an ASAP Member-Only event.
Pricing
Members: FREE
Note:
Members and guests must be logged in to register for events.

Do not have a log in? Please create an account and join our community.