The Transformation Ecosystem – Partnering Strategy for a New Year
Collaborative Connection Monthly
---
Thursday, January 5, 2023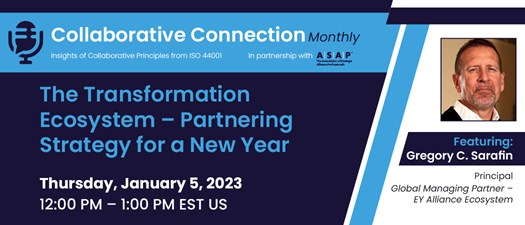 2022 began as a year of continued disruption, black swans, and Covid. Establishing a resilient partnering capability is crucial to weathering these challenges and enables organizations to pivot and transform to adapt to new business realities. What does 2023 hold for us and how do we embrace change and adaptation through ecosystems? Our guest talks about how to continuously innovate, transform and adapt collaborations to address new futures.
Pricing
This is a FREE event, open to all
Note: Members and guests must be logged in to see "Register Now" button.
Don't have a login? Please create an account and join our community!