Back to ASAP Store
Creating Alliance Value (ebook)
Publications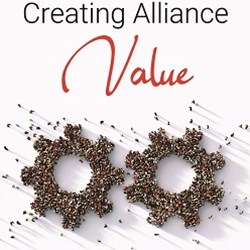 Authors and alliance management all-stars David S. Thompson, Kim Koch, and Lisa Keough have created the latest publication and significant contribution to ASAP's thought leadership, Creating Alliance Value. From the basics of alliance management to the intricacies of business and human risk, legal uncertainties, value inflection points, and more, Creating Alliance Value is a treasure trove of insights on the fundamentals and nuances of managing alliances and partnerships of all kinds.
The authors, all leaders in the alliance profession, will be your guides through the world of managing alliances, including:
The Alliance Life Cycle: Startup, Steady State, and Wind-Down
Contract Design and Key Contract Elements for Alliance Managers
Governance Structure and Documentation
Handling the First Dispute to Set the Partnership Up for Success
Identifying and Predicting Value Inflection Points (VIPs)
Managing International Alliances
Click here for more information.
This publication is in an ebook format and will be available as a PDF download as well.
---