Back to ASAP Store
Biopharma Collection Learning Series
Learning Series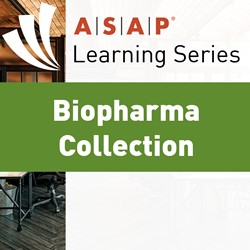 ASAP has put together a new, ongoing series of videos culled from our conferences and other events to showcase our alliance management thought leaders' contributions and give you the benefit of their insights and expertise. The ASAP Learning Series is actually four different collections of videos, allowing you to choose the presentations that will help you the most. Our presenters share valuable knowledge you can use, both in solving your day-to-day challenges as well as looking ahead to the future of alliances and partnering.
Four videos in this collection deal with subjects such as managing alliance power imbalances, alliance integration, long-standing alliance relationships, and enabling strategic change. Collection includes:
Managing Power Imbalances: How to Navigate Partnerships between Large and Small Organizations
Jessica Wadd of Vantage Partners
Steve Pessagno from GlaxoSmithKline
Amy Walraven of Turnkey Risk
Joy Wilder-Lybeer of Equifax
Troy M. Windt of Reata Pharmaceuticals, Inc.
Navigating the Differences Between Alliances and Integration – 'Snowboarding for Skiers'
Carlos Keener of BTD Consulting
Brooke Paige, CSAP former Pear Therapeutics
Nick Palmer of BTD Consulting
Steve Twait, CSAP of AstraZeneca
Resiliency in Alliance Management: How Amgen-UCB Managed the "Roller Coaster Ride" of a Long-standing Alliance
Tracy Blois, PhD of Amgen
Alistair Dixon, PhD of UCB Pharmaceuticals
Enabling Strategic Change—Cultural and Alliance Capability Development
Christoph Huwe, CSAP, PhD
Michael Kennedy, PhD of Bayer Pharmaceuticals
---