Back to ASAP Store
Embracing Conflict Resolution & Collaborative Problem Solving
Content Bundles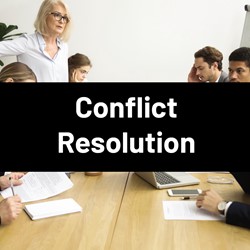 The potential for conflict with your partner increases with speed and complexity, but savvy alliance teams sharpen their conflict resolution skills—and even embrace conflict as an opportunity to drive creativity, alignment, and growth in their partnerships. This package features a cover story from ASAP Strategic Alliance Quarterly, an ASAP Webinar, and a step-by- step outline that helps guide a collaborative problem-solving process complete with a checklist.
Read. ASAP Strategic Alliance Quarterly Cover Story | Q3, 2017
The Art of Sparring and Crossing Swords
What can History Teach Us About Alliances?
No Pressure, No Diamonds-No Sand, No Pearls
Watch. ASAP Webinar | Why Does Great Alliance Collaboration Require Good Conflict
Use. Collaborative Problem Solving Process and Checklist
Package takeaways include:
Learn how to sharpen conflict resolution skills
Discover how partner conflict sometimes results in innovation and valuable outcomes
Hear about common "hot buttons" that may initiate alliance conflict
Receive a step-by-step process on how to navigate collaborative problem-solving
---