Back to ASAP Store
Partners Are the Customer Experience
Publications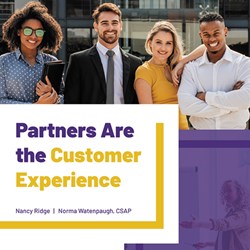 The business world has become focused on customer experience, almost to the point of obsession. Now, for the first time, the key link has been made between partner experience (PX) and customer experience (CX). Authors and experienced tech partnering veterans Nancy Ridge of Ridge Innovative and Norma Watenpaugh, CSAP, of Phoenix Consulting Group present the findings of their research and highlight these connections, and explain their implications for companies and for partnering professionals, in Partners Are the Customer Experience.
This brand-new e-book, produced as part of a collaboration between the authors and ASAP, covers:
How partners engage all along the customer journey, from pre-sale through point of sale to post-sale
How customers benefit from a strong partner experience and realize better business outcomes
How better enablement, specialization, collaborative selling assistance, and other partner benefits improve customer experience
How building trust and developing strong relationships fosters both partner and customer experience
…and much more!
---