Value of ASAP Certification
CA-AM and CSAP Certification Translates into Better Business Outcomes

The ASAP certification program ensures that organizations get optimum value and efficiency out of the partnership practice and the alliance managers running it. In today's fast-paced global economy, the "partner" function is as important as "build" or "buy." ASAP-certified alliance practices and professionals quickly acquire the skills to guide collaborations to their desired goals—adding revenue, penetrating new markets, integrating new technology or knowledge, etc.—at a significantly higher rate than those carrying out partnerships on an ad hoc basis.
---
Why get certified?
Because ASAP certification has been shown to:
Greatly improve success rates for strategic alliances, comarketing and coselling arrangements, reseller programs, and other forms of company collaborations
Significantly reduce the time and resources needed to train and develop top-caliber alliance professionals
Demonstrate the individual's greater level of competence and commitment to the profession
---
Click here for upcoming certification workshop dates
---
Read more about the value of certification: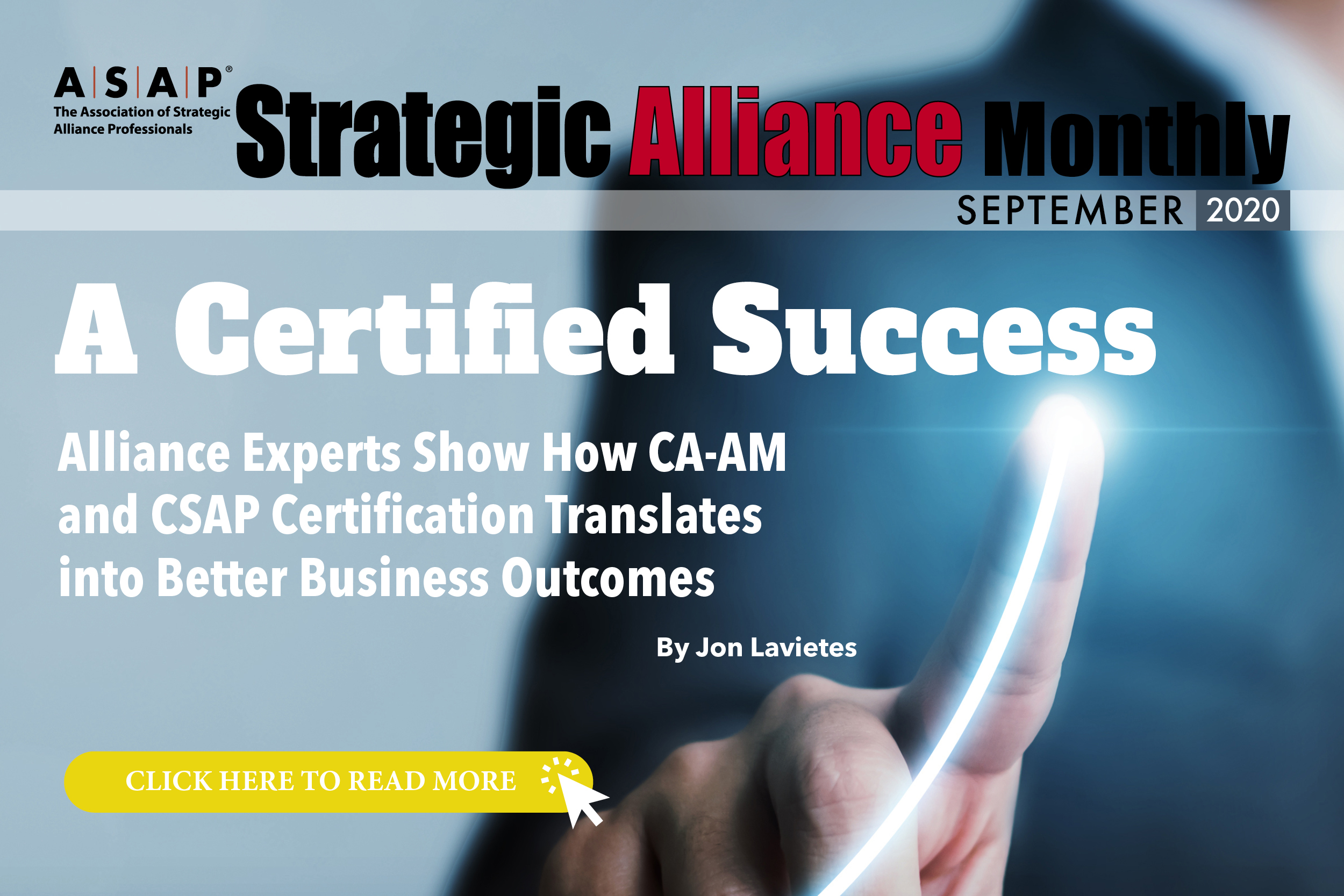 Certification saves significant time and money. Certified professionals drive company strategy and create better business outcomes. This Strategic Alliance Monthly article explains how.
---
Certified alliance professionals steer partnerships to greater heights at a higher success rate:
Drew Quinlan, CA-AM, vice president of strategic alliances at RingCentral, talks about how ASAP certification helps him and his team get to better alliance outcomes faster.
| | | |
| --- | --- | --- |
| Certification Should be a Foundational and Required Part of Every Alliance | Companies Move Faster and Farther with Certification | Creating a Cohesive Team That Embraces a Common Language |
---
"Both the CA-AM and the CSAP aren't just about, 'What is an alliance?' It's not about definitions and facts. It's about situations—what you would do in various situations. It's really the practical application of the knowledge that makes it more valuable," said Christine Carberry, CSAP, formerly of Keryx Pharmaceuticals, FORUM Pharmaceuticals, and Biogen Idec.

---