Back to ASAP Store
Leadership Collection Learning Series
Learning Series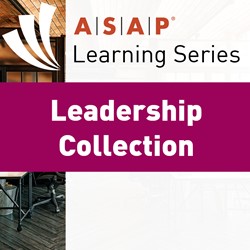 ASAP has put together a new, ongoing series of videos culled from our conferences and other events to showcase our alliance management thought leaders' contributions and give you the benefit of their insights and expertise. The ASAP Learning Series is actually four different collections of videos, allowing you to choose the presentations that will help you the most. Our presenters share valuable knowledge you can use, both in solving your day-to-day challenges as well as looking ahead to the future of alliances and partnering.
Four videos examine building trust and "unconventional affiliations," the profitability of collaborative excellence, alliance management skill development, and alliance marketing strategies. Collection includes:
The Untapped Gold Mine of Building Trust, Unconventional Affiliations, and Iteration-based Partnerships
Tiffani Bova of Salesforce
The Profit Power of Collaborative Excellence—How Collaboration Impacts the Bottom Line
Robert Porter Lynch, CA-AM of The Warren Company
Alliance Management Skill Building: Case Studies Across Industries
Ben Siddall of Vantage Partners
Jessica Wadd of Vantage Partners
Are your Alliance Marketing Strategies Destined to Boom or Bust?
Andrea Katsivelis of Microsoft WW One Commercial Partner
Mark Reino of Merit Mile
---